We invite you to come experience the revolutionizing cosmetic power of two of the world's most trusted surgical talents in Mexico. At eláen Plastic Surgery and Hair Transplant Center, your treatment is individually customized to your aesthetic preferences, lifestyle and structure — from the moment you connect with us.
— Dr. Alejandro Enriquez de Rivera Campero
BEGIN THE JOURNEY TO A NEW YOU
Led by expert plastic surgeon, Dr. Alejandro Enriquez de Rivera Campero, the leading plastic surgery center in Puerto Vallarta serves patients across the globe. Eláen has become the flagship for all beauty-related enhancements and trending medical treatments.
The eláen Plastic Surgery Center in Mexico consists of passionate and experienced medical professionals, who are compassionate about helping you achieve your cosmetic goals and — always strive to meet each patient's needs.
Dr. Alejandro believes that a plastic surgeon's job is to improve each patient's self-image — and he is committed to doing everything possible to accomplish this goal. Combined with his experienced and personable staff, our team strives to deliver the highly personalized care you deserve to provide you with an exceptional experience from start to finish.
Plastic Surgery Mexico
The top plastic clinic in Mexico offers a wide range of plastic surgery services to address just about any need you may have. Our services include:
Combining advanced techniques with unparalleled skill — our expert plastic surgeon can achieve remarkably natural-looking, beautiful results.
Why Choose eláen Plastic Surgery Center
Contact Elaen Plastic Surgery Center Puerto Vallarta, get a free quote
Reviews
Wonderful. Very skilled at the procedures I had. I would highly recommend this clinic and either of the doctors.

Still in healing process, but doing well.

Still in healing process, but doing well.

From the first time I contacted Elaen, until the final check-up, the team was outstanding! Everything is so well organised and planned, and they are all very patient and accommodating. Dr Alejandro is very professional, and shared his experiences and expertise very well. He is extremely knowledgeable, and very professional. The Elaen team is very open with their communications, and executed the tasks flawlessly. The planning was well communicated, and they stayed in touch from the start to the finish. Thank you, and well done!

I cant say enough good about my experience. Dr. Alejandro is a true artist and you can tell he enjoys his job. He listens to what you want and understands. Sophia was my coordinator and I bugged her day and night before surgery and have after and she is nothing but a sweetheart in always assuring me and answering questions. The doctor and nurse that stayed with me post op wer very attentive and even funny and fun to be around as we cracked jokes even theough the pain. Absolutely recommend this place. In fact hqve lipo scheduled next month. Thank you all for being the best. With love and sincerity Traci

I had the best experience with Dr. Alejandro. I can totally tell that he works coherently to his morals & in a very ethical way, I had the best attention from him and his team and the work done came out to be better than I expected. My nose looks gorgeous, natural & so well done. I highly recommend Dr. Alejandro because of his experience, attention and professionalism doing his work. + he has personally given me continuous tips on my recovery.

Dr. Alejandro Enrique was very helpful during our Consultation. His knowledge and explanation of Process helped us to decide to set a date for a Facelift Procedure.

Dr. Alejandro and his staff are absolutely wonderful! I felt cared about throughout the entire process. The communication is fabulous. They answered all of my questions and took amazing care of me. The morning of my procedure the doctors and support staff were upbeat, friendly, and very caring. After my procedure, they had me rest/sleep for 4 - 5 hours in a recovery room that was dimly lit, had relaxing music playing with nature scenes on the tv. I believe they even had aromatherapy and a salt rock lamp. I had a nurse in the room with me the entire time who was so compassionate to everything I was going through. A doctor called my husband halfway through the surgery to let him know that everything was going well. Then Dr. Alejandro called him once the surgery was over to let him know they were done and I was recovering. In the days since my procedure, they've checked in on me several times. I am so glad that I chose elaen and Dr. Alejandro & I'm recommending my friends come to have the same procedure with him.

My experience was exceptional. The doctor was very thorough and explicit giving detailed explanations on the procedure. His communications skills and kind personality immediately put my husband and I at ease and assured us that he was the correct doctor to choose for my elective procedure.

I am very happy with my full facelift procedure that was performed in January 2020 by Dr. Alejandro and his professional team at Elaen Clinic in Puerto Vallarta. The procedure was performed in a 'state of the art' hospital with round the clock care following the procedure. From the initial consultation to my final post-op visit I was treated with respect and kindness. Dr. Alejandro is a consummate professional.

I am happy with my treatment. The office is beautiful. The staff is very friendly and helpful. My Dr. was pleasant and easy to talk to.

It was a good and clean environment...I had to pay extra for psw at my hotel but overall the surgery went well.. I look amazing and am happy with the results .. would go bk to dr. Alehandro enriquez

Great customer service, care, staff, quality of work and prices. Knowledgeable compassionate surgeon.

I had a great experience.. the hospital was clean and the staff very helpful ..I find that the hospital staff didn't know much English but once I woke up Dr. Alejandro Enriquez and his staff were there to greet me. I had a friend help me and a nurse that also was coming to help once a day for an extra cost of 60$cn. I got my tubes cut the day before my departure and I'm not home and healed but I am happy with the results.. I will be back to this clinic again !! Ty I should have done this years ago!

This experience far exceeded my expectations. I had my initial consult on February 23, more out of curiosity than anything, thinking if all went well I could have my surgery the following year when I returned to Mexico. From the moment I walked into the San Javier Hospital I was impressed by the clean, state of the art building design and staff. I saw Dr Alejandro in his clinic on the third floor and he answered all my questions and left it with me to contact his office if I wished to proceed with the surgery. To my surprise the office advised they could do the surgery as early as March 9, when I arrived I was greeted by a team of highly qualified staff, all of whom were friendly and spoke English and made me feel completely comfortable and at ease. I was monitored closely postoperatively and released within five hours of entering the hospital. The recovery has gone well and I saw Dr Alejandro at one week and again at two weeks prior to my return home to Canada. He will continue to follow me via video conference and photos after my return for a period of six months or longer as necessary. I would not hesitate to recommend Elaen Clinic and Dr Alejandro and would not hesitate to return for other procedures.

Very positive. Pre and post operative care were well explained. Most discolouration was gone within 11 days

I had a good experience in the hospital. The staff took great care of me. Not all of the staff speaks English but there is some one there that dose.

I was very pleased with the care and attention of the hospital staff and the physicians.

The doctor, hospital experience and after care were excellent. I have no reservations about recommending this hospital. Very personalized care. Comfort and very attentive to all my needs.

Very good all the staff were very professional.

From my consultation through post-OP I found the service excellent. The hospital staff was very helpful and made me very comfortable. Dr. Alejandro and my consultant Lori answered every question I had, pre and post OP. At almost 2 months post OP I can contact them with a concern and get an answer within a day. I have been recommending Dr. Alejandro and the Elaen to my friends and family who are interested in medical tourism. SO Happy 🙂

Absolutely excellent, very pleased with results

Great experience from start to end. Lori the coordinator who is awesome by the way,arranged everything for me and answered all my crazy questions. She put me at ease right off the bat! Drs are nothing but the best. They know their stuff that's for sure! All they care about is YOU, and making you happy.They take their time in explaining everything, they give you options and great recomendations based on your body type. They don't pressure you, they make sure you get what you want. The hospital is just amazing, i couldn't believe it.It's almost like a spa! Very clean, organized and definately secure. I had a room with a view of the ocean, it was wicked!! The nurses are all great, I had one guy nurse and he was hilarious, just busting out with jokes all the time to make me laugh and feel comfortable. Over all it was a wonderful experience. If your considering Elaen,call them now you wont regret it. Cost, oh how can i forget... In Canada & USA for gel implants you're looking at about 10thousand dollars ATLEAST, I paid approx. $4000 for my augmentation (cohesive gel) at Elaen... saved about $6000 and got a vacation out of it!! Holla

I travelled to this clinic by my self from Canada. Although you receive top treatment in north america my experience at this hospital was above and beyond. The procedure seemed a kitty scary , but had no pain and the treatment eas first class. I would highly recommend this clinic and the plastic surgeons. The staff and nurses were caring , respectful and provided first class service. It would seem that the management personnel of the hospital would also have to be recommended in making sure that first class service was provided . Having been hospitalized a few times over the years I would have to say that the staff were the most pleasant although very few nuses spoke good English. . All the doctors were fluent in the English language which made it more comforting.

I was very impressed with the treatment I received. I will be making an appointment for sometime in November.

I had surgery in this hospital and 3 weeks later I got an bug spray in my wound and had to go back to hospital for 4 days . It was very scared . Being new to Pureto Villarta and away from my family in Canada not knowing what could happen . However the doctors and staff in the hospital treated me with respect and care . I have no complaints . Everyone was wonderful.

My experience was wonderful from start to fininsh. I couldnt have felt in better hands. Doctor was friendly and informative. He did a fabulous job! All my friends are blown away by his work.

Excellent care and very affordable.

I loved the quality of care and the hospital. The doctors came into see me after the surgery and the next day. I had constant communication and when I was in pain from the opening of one of the drains, a nurse was sent over to look at it. I wwas connected with a nurse that came twice the first week to assist in showering and getting me back into the compreseion garment. The doctor drove from guadalajara to PV just to check up on me after 12 days. He then removed the drains. This could have been done by a doctor at San javier, but he graciously drove just to ck=heck up on me. I am very pleased with the surgery, all went well, and I am recovering.

I was very happy to meet Dr and was confident prior to surgery. The aftercare was very good and constant throughout the recovery period. The results are excellent.

I was treated with care and respect, the nursing staff was excellent. I was in a lot of pain.

My treatment went very well. The doctor is very good and the surgery was totally successful and scheduled well. Doctor cares about me.

Fantastic experience. Very helpful support from Lori and great surgery team. Staff at the hospital was top class. I would highly recommend to any of my friends or family.

My Botox treatment was quick and efficient. The doctor was friendly and professional. As I had already had Botox in the past, I was comfortable with the procedure. Billing was quick and efficient. I would recommend Reveert highly and would use their services again. The procedure was a success!

For some time I toyed with the idea of cosmetic surgery to correct what I considered to be flaws resulting from the normal aging process, but the prohibitive cost associated with such surgery in the US made it impossible for this to be more than a dream. However, since I was to be in Mexico on other matters, I decide to look into the possibility of acting on that dream. I considered other practices, but the information available on the web about Reveert was impressive. The state-of- the-art technology used, the facilities at the Puerta de Hierro Medical Center with private rooms and new operating suites, all pointed to a complete commitment to patient safety. When I finally had my consultation, the very knowledgeable and personable medical team truly set me at ease, and all remaining fear turned into excitement about the possibilities open to me. Dr. Enriquez helped me feel good about making this decision to improve myself and gave me courage to go forward with the surgery. In addition to the impressive team of doctors, the staff was incredibly supportive. The patient consultant arranged the hotel, supplied information, facilitated my arrival and stay, and would have arranged my travel had I needed it. I cannot say too much about the staff: nurses, patient consultant, office manager, all were friendly, supportive, talented and very committed to providing exceptional care. The whole experience was so positive that now I wonder why it took me so long to go after my dream.
Staff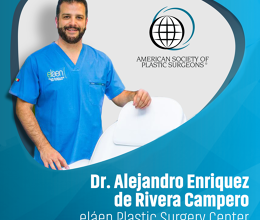 Dr. Alejandro Enriquez
Plastic Surgeon
---
Dr. Alejandro Enriquez de Campero is a board-certified plastic surgeon who strives to make a difference in the world with his extraordinary surgical gifts. He specializes in elevating clients to a new plateau of beauty through his groundbreaking approach to facelift surgery. His surgical prowess and innovative techniques have been recognized internationally.